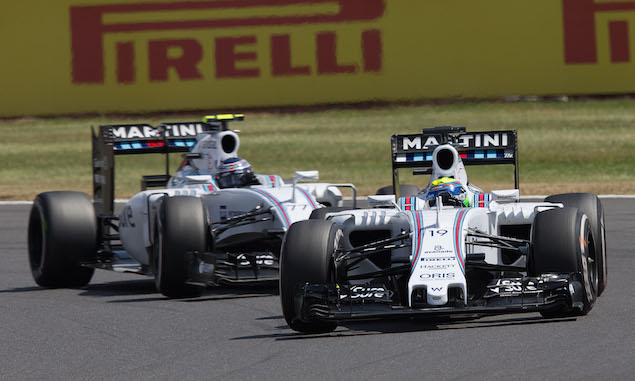 Despite the disappointment of missing out on a podium at Silverstone, Rob Smedley says Williams can take heart from being "clearly faster" than Ferrari.
Felipe Massa took the lead at the start of the British Grand Prix, with Valtteri Bottas soon taking second place from Lewis Hamilton. However, Hamilton jumped both cars in the pit stops and then late rain saw Nico Rosberg and Sebastian Vettel move ahead to leave Massa fourth and Bottas fifth.
While head of vehicle performance Smedley was disappointed not to finish on the podium with at least one car, he says Williams has to focus on the progress it has made to be quicker than Ferrari at Silverstone.
"I think the weekend on the whole for us was really, really positive," Smedley said. "We thought the car would be good, all the upgrades that we've done with the car and all the development worked really, really well.
"It's the first weekend I think since the start of the season - even though we've been inching closer - where we've been clearly faster than our closest competitor, Ferrari. We were faster in qualifying, we had a similar pace advantage in the race in the dry.
"What is clear is in the dry we were the second quickest car [at Silverstone] and clearly the second quickest car. So that's been a really positive weekend for us."
Click here for a look at the technical updates brought to the British Grand Prix
Keep up to date with all the F1 news via Facebook and Twitter