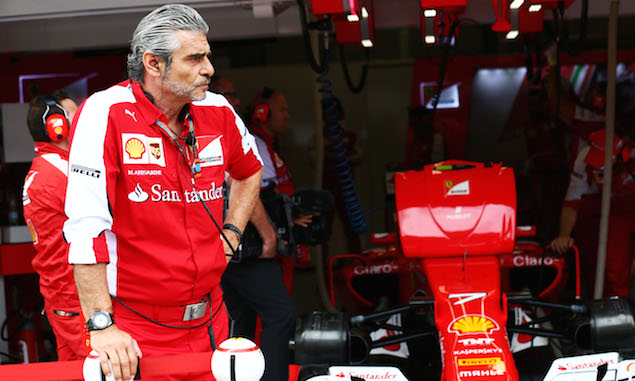 Maurizio Arrivabene says Ferrari has to trust Kimi Raikkonen's explanation regarding his accident at the start of the Austrian Grand Prix.
Raikkonen lost control on the straight having exited Turn 2, spearing to the left after overcorrecting his car and collecting Fernando Alonso in a nasty accident which saw the McLaren end up on top of the Ferrari. Raikkonen said there was a lot of wheel spin and was unsure if there was a technical reason having been already at high speed in a straight line, but asked if that could be an explanation, Arrivabene replied: "Honestly, I don't think so.
"There's no images on the camera of Alonso, so we have to trust Kimi, he said that the car got wheel spin and that's it. If you listen to what Kimi said, Alonso didn't touch him."
With Raikkonen having had a poor weekend, Arrivabene says it won't have a big impact on his chances of staying at Ferrari next season because he's focused on more than just race results.
"It's not a question of today or yesterday. Of course we have a deadline and I'm not going to tell you when the deadline is, but it's an overall view that is conducting our decision. I was talking about performance; performance means a holistic approach. How is the feeling with the engineer? How is he working with the engineer? How is he getting points? How is he getting podiums? How is he quick? How is he working hard?
"There are many, many things. And now it's early to tell him something or to decide something.
"I could look a bit defensive or protecting him, but guys we are not even at the half way point of the season. Try to be in my position and go to Kimi for example to say 'you are out' or 'you are in' or whatever. I want the guys to be concentrated in what they are doing today and to give us the maximum."
Click here for the gallery of Raikkonen and Alonso's crash at the Austrian Grand Prix
Keep up to date with all the F1 news via Facebook and Twitter