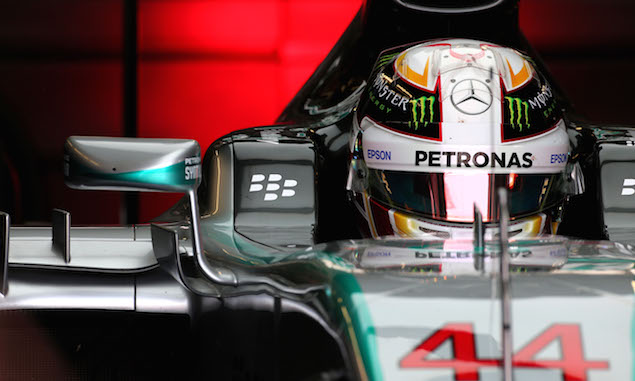 Lewis Hamilton says it was "not necessary" for him to go out in wet conditions during practice for the Canadian Grand Prix after he crashed in FP2.
Having been fastest during the dry running, Hamilton and team-mate Nico Rosberg were sent out by Mercedes to carry out some practice starts despite heavy rain falling halfway through the second session. With Hamilton on intermediates and the rain increasing in intensity, the championship leader aquaplaned off at the hairpin and hit the tyre barrier head on.
Hamilton insists it wasn't his decision to return to the track, but says the incident didn't have a big impact on his day.
"It should have been a good day," Hamilton said. "It wasn't my call to go out, and not necessary. We collectively don't think it was necessary to go out but at the end of the day it didn't affect our running."
When asked how it felt approaching the hairpin, Hamilton replied: "It literally was like being on ice and I was just a passenger.
"Looking at the onboard I accelerate through the gears, come off the power, I'm cruising in and brake and it just goes straight, not the greatest but you have to laugh it off and the guys will work hard to fix it."
However, Hamilton is confident in the pace Mercedes showed on Friday even though Ferrari appeared closer than at previous races.
"The car's feeling good out there. I think Ferrari has obviously picked up the pace here which will be interesting to see tomorrow.
"I didn't really have too many problems in the dry today, I think we're trying to understand the tyres and extract the most from them. The balance was okay, pretty good, some small changes and tweaks to make but generally improving. It's a very bumpy track - front locking, kerb absorption, understeer in some places – hundreds of things I can change and need to study and figure out."
Click here for Friday's gallery from the Canadian Grand Prix
Keep up to date with all the F1 news via Facebook and Twitter