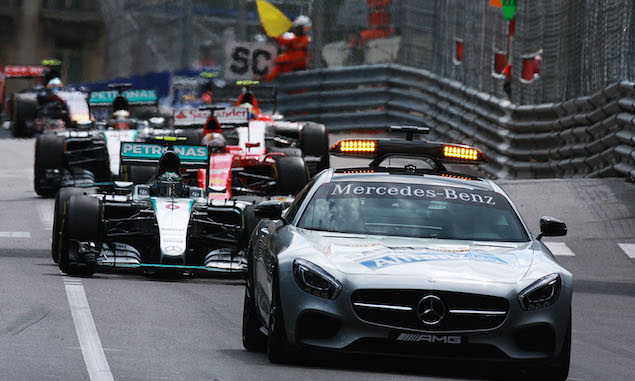 Pirelli motorsport boss Paul Hembery admits even he was surprised to see Mercedes attempt to pit Lewis Hamilton late on during the Monaco Grand Prix.
With the safety car deployed due to a crash for Max Verstappen, Hamilton opted to switch his soft tyres for a set of supersofts for the final laps of the race, with Mercedes saying it was concerned about an attack from Sebastian Vettel if he also switched to supersoft tyres.
As it transpired, both Nico Rosberg and Vettel stayed out, with the soft tyre taking a few laps to warm up again before being able to hold off Hamilton's challenge and leave him third overall. Despite dropping tyre temperatures, Hembery says he didn't see the benefit of Hamilton pitting from the lead.
"I was as surprised as everyone else to see the final pit stop that decided the outcome of the race," Hembery said. "But that shouldn't take anything away from the great job that Lewis Hamilton did throughout the entire weekend.
"It just goes to show that it's never over until the chequered flag falls in Formula One: a fact that Nico Rosberg clearly appreciated! The long safety car period at the end of the race obviously made maintaining tyre temperatures important at the re-start.
"In the end, we saw a spectacular finish, with the one-stop strategy that we predicted for the race used by the vast majority of competitors."
Click here for a look at some of the best quotes from the Monaco Grand Prix weekend
Keep up to date with all the F1 news via Facebook and Twitter