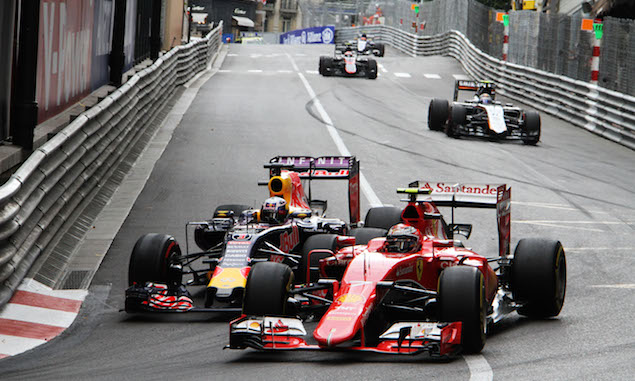 Kimi Raikkonen says he felt Daniel Ricciardo should have had an "obvious" penalty in the Monaco Grand Prix.
Having pitted under the safety car, Ricciardo was running on supersoft tyres and attempted to pass Raikkonen in to Mirabeau but tapped the Finn's right rear, sending the Ferrari wide and allowing the Red Bull through. Ricciardo was cleared by the stewards after an investigation but Raikkonen believes it should have resulted in a penalty.
"Normally yes [it's a penalty] but, this time, no," Raikkonen said. "Its not very clear what you are allowed to do because sometimes you get a penalty for gaining advantage and other times you don't.
"There is usually a penalty for this kind of thing but this time, there was not. In my mind it was pretty obvious, but the stewards think different."
However, Raikkonen admits his qualifying performance was the most costly part of his race weekend.
"Its never going to make the race exciting when you qualify a bit out of place. You normally end up following cars and get stuck in position so it was a frustrating race."
Click here for a gallery of Max Verstappen's crash with Romain Grosjean during the Monaco Grand Prix
Keep up to date with all the F1 news via Facebook and Twitter