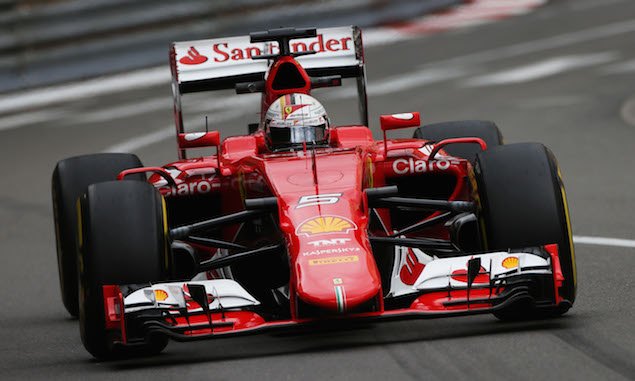 Sebastian Vettel set the pace in final practice for the Monaco Grand Prix as team-mate Kimi Raikkonen crashed.
With the two Mercedes having been top for the majority of the session, Vettel produced a quick lap in the final five minutes to go over half a second clear of the field. Nico Rosberg did respond to cut the gap to 0.2s but was unable to beat the Ferrari.
Lewis Hamilton was third after seeing his final run interrupted by traffic, leaving him half a second behind Vettel while Daniel Ricciardo in fourth was the only other driver to get within a second of the Ferrari.
It's same to assume Raikkonen would have been near the top of the times but for his crash, with his error coming while he sat third in the standings. Raikkonen lost the rear of his Ferrari exiting Ste Devote and hit the barrier with his left rear wheel, damaging the suspension and bringing out the red flag.
The Ferrari was moved behind a barrier but Raikkonen's session ended after just 11 laps. With no supersoft tyre running on Thursday, the Finn is set for a challenging qualifying session with so little experience on the faster compound.
Raikkonen ended FP3 in sixth place despite his error, with Carlos Sainz ahead of him in fifth place. Daniil Kvyat was seventh ahead of Jenson Button as McLaren again looks capable of challenging for Q3.
Max Verstappen was ninth but made his first mistake of the weekend as he hit the wall at the final corner. Having been held up by a McLaren at Rascasse, Verstappen was eager on the throttle as the car in front of him entered the pits and the Toro Rosso swapped ends before the final corner, hitting the barrier on the outside and breaking his rear wing.
Romain Grosjean was tenth for Lotus ahead of Sergio Perez and Pastor Maldonado, while Williams looks set for a difficult qualifying after Valtteri Bottas and Felipe Massa could only end the session in 15th and 16th respectively.
Click here for a look at the technical updates brought by all the teams at the start of the European season
Keep up to date with all the F1 news via Facebook and Twitter
| Pos | Driver | Team | Time | Laps |
| --- | --- | --- | --- | --- |
| 01 | Sebastian Vettel | Ferrari | 1:16.143 | 27 |
| 02 | Nico Rosberg | Mercedes | 1:16.361 | 31 |
| 03 | Lewis Hamilton | Mercedes | 1:16.705 | 31 |
| 04 | Daniel Ricciardo | Red Bull | 1:17.120 | 26 |
| 05 | Carlos Sainz | Toro Rosso | 1:17.256 | 39 |
| 06 | Kimi Raikkonen | Ferrari | 1:17.401 | 11 |
| 07 | Daniil Kvyat | Red Bull | 1:17.471 | 28 |
| 08 | Jenson Button | McLaren | 1:17.767 | 28 |
| 09 | Max Verstappen | Toro Rosso | 1:17.788 | 23 |
| 10 | Romain Grosjean | Lotus | 1:17.806 | 28 |
| 11 | Sergio Perez | Force India | 1:17.832 | 30 |
| 12 | Pastor Maldonado | Lotus | 1:17.956 | 28 |
| 13 | Nico Hulkenberg | Force India | 1:18.102 | 32 |
| 14 | Fernando Alonso | McLaren | 1:18.197 | 26 |
| 15 | Valtteri Bottas | Williams | 1:18.212 | 29 |
| 16 | Felipe Massa | Williams | 1:18.242 | 32 |
| 17 | Felipe Nasr | Sauber | 1:18.767 | 38 |
| 18 | Marcus Ericsson | Sauber | 1:19.269 | 37 |
| 19 | Will Stevens | Manor | 1:21.093 | 31 |
| 20 | Roberto Merhi | Manor | 1:22.225 | 30 |