"Felipe is become more and more comfortable with his surroundings. He is enjoying racing again and enjoying finding more and more speed."
So says Williams chief technical officer Pat Symonds, the man largely praised as having the biggest personal influence with regards to Williams' turnaround over the past 18 months.
In a year where more than half of the grid is aged 25 or younger, and the focus is on the prodigal talents of the likes of 17-year-old Max Verstappen, it's easy to overlook the potential in a driver at 33. However, Felipe Massa has enjoyed a new lease of life since joining Williams at the start of 2014, and speaking exclusively to F1i he says he would agree with Symonds' observations.
"For sure, I feel much more automatic in the team, so much better in the team," he says. "I think it was a big revolution for everybody in the team. So for all the new people that arrived, for everybody that was already here but had the method of working changed, the mentality of working. Even for the drivers; Valtteri [Bottas] knew the team but many things changed for him as well.
"For me I was new in the team, so there were many things that I was trying to learn and trying to adapt to in the team. There were so many things that we needed to change and definitely you get better. You understand things in a much better way and things work in a much better way. It makes you better on the track, so I think everything is related to the improvement. I feel really in much better shape in the team but also myself, also in the car compared to the same stage last year."
[Respect] is something that I didn't have so much in my last years with Ferrari and I have it 100% now
Despite a start to the season which has seen Williams make little inroads in to Mercedes' advantage, Massa's demeanour is a relaxed and content one in the team's hospitality unit. The Brazilian thought his career could be over as he struggled during his latter years at Ferrari, but there's one word he uses to describe how Williams gets the best out of him: Respect.
"I need the car that I like to drive, that I feel comfortable with and a car I can adapt to my driving style. This is something that you always need to have as close as you can to what you want. But I also need to feel the respect from the team.
"It's something that I didn't have so much in my last years with Ferrari and I have it 100% now. I think everything is detailed in Formula One, so you need to be perfect in every area. If you feel something that you don't see and you're not happy, for sure it has an impact on performance as well.
"Sometimes we believe the sport is just a sport we have to do, but the psychology and what you think, the way you work and the way you feel, it needs to be perfect. Otherwise maybe it's easy to lose 0.1s or 0.2s and in the end it means you're getting slower instead of improving."
By giving him that respect, Williams is getting Massa back to his best. Before his accident in Hungary in 2009, Massa had challenged for the championship for two consecutive seasons but says he hasn't felt a crucial part of a project since then.
"It's not just that Williams helped me, it's also that they need me. For sure they are amazing people and I'm so happy here. Pat is one of the best engineers and technical bosses that I ever worked with. He's really a master at the top level, you know?
"But for sure I feel at the moment that also the team needs me. Everything that Williams did from 2013 to 2014 and is still needing now - even if the situation is better - is to get the team to the top and make it stay there for a long time. You need to create a team to stay there and I would say that I'm definitely a very important key inside the team. Not just me, also Valtteri, but I feel a very important key in the team and I feel the team sees that.
"That's really a big pleasure because you know you have a team that trusts you 100% and you know you have the respect of the team. I just need to do my job and I really want to see this team at the top because it's also a pleasure for me because I am part of this revolution.
I was not happy, I was f***ing pissed off
"Sometimes people think 'OK in the first race you raced alone and Valtteri wasn't there so you were happy'. I was not happy, I was f***ing pissed off because we know how important points are for the championship and I want to see the team at the top. Honestly, I'm not in the position anymore just to fight with my team-mate, maybe doing something to beat them. I'm here to bring experience and to bring responsibility to give the best I can to the team."
Referencing the lack of an intra-team battle he has with Bottas, Massa insists it is an approach he also had at Ferrari which was a necessity alongside Fernando Alonso.
When F1i asks if he played tricks against his team-mate at Ferrari, Massa admits: "No, I think I lost because of that as well.
"But if I changed my style at Ferrari maybe I was not going to be there for so long, maybe the would have fired me before. So what I did at Ferrari I think was totally correct, I used my intelligence to stay there and wait for the right moment to leave, which is what happened, fortunately."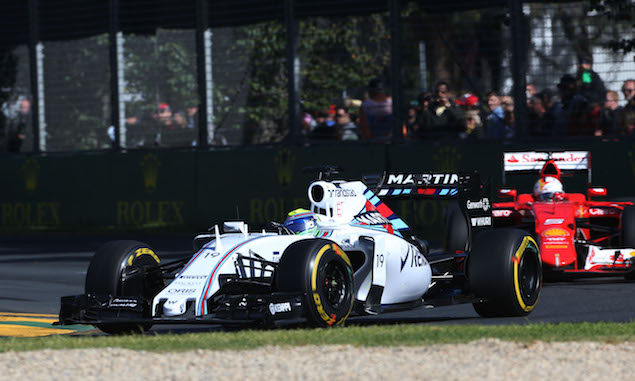 It's the arrival of Alonso that coincided with the start of Massa's decline at Ferrari as results unravelled and the team cast him in a clear number two role. But rather than feeling the lack of respect from Maranello was a conscious choice, the reaction to his life-threatening crash at the Hungaroring convinces him it was just circumstance.
"2009, what I saw after my accident, what the team was doing for me was amazing. I really was a big part of the team. That was a really nice feeling because it was a human feeling, not just related to the racing.
"There's what happened in 2008 [losing out on the title at the final race] and even in 2007, nobody thinks about it because most people just see the result but before Monza I was nine points in front of Kimi [Raikkonen] and then I had a problem. If I didn't have the problem in Monza I was going to be maybe more than 12 points in front of Kimi, I was going to be the number one.
"Then in Spa, he won and I was second; he was going to let me by. In Brazil I was going to win the race, I was totally in the fight for the championship but because of Monza everything changed. So it was a great year, even if people just look at the result at the end and say 'Kimi was fantastic', but until Monza I was in front.
"But anyway, I had an amazing feeling with the team. And I think definitely starting from 2010 things started to get a little bit more difficult year by year."
Raikkonen took the title in 2007 and Massa's best chance slipped by a year later, but he's convinced his move to Williams gives him the potential to chase a title once more.
"I thought [Williams] was the last chance. Things will go well now or maybe we're finished!
"Sometimes things change in a way which you don't expect and you can really change yourself because of that. It's so nice what has happened and it's still nice and still happening. I still believe many other things can happen.
"I'm racing to win. I'm not racing to participate. I raced to win all my career and I won many races in all my career and in many championships. When you get to the first race and see you're 1.4s slower it's a bit frustrating, but what can you do? We need to keep fighting and if we can't win the championship we have to be the best of the rest."