Wolf, 1977 Argentine Grand Prix – Buenos Aires
Some would argue that Walter Wolf had already bought a controlling share in Frank Williams Racing Cars in 1976, so the Canadian oil tycoon's team was not a total newbie the following year.
That said, the Wolf structure that entered the 1977 campaign had little in common with the fledgling Frank Williams-led organisation that had been making do over the past decade.
Peter Warr had been appointed as the new team manager, while Harvey Postlethwaite designed the elegant Cosworth-powered WR1.
Wolf only fielded one car but he had managed to convince Jody Scheckter to jump ship after three years at a declining Tyrrell team. The South-African ace was no longer the hot-headed charger whose on-track antics had come under heavy criticism at the start of his F1 career.
The 1977 campaign got under way in Argentina with Scheckter only 11th on the grid after encountering cooling issues in qualifying. The season-opening grand prix proved to be a race of attrition though, and the South-African steadily recovered through the field.
Still, Brabham's Carlos Pace looked set to win the race but the Brazilian got dehydrated in the closing stages and slipped down behind the Wolf driver, who eventually claimed an unlikely victory for the WR1's maiden outing.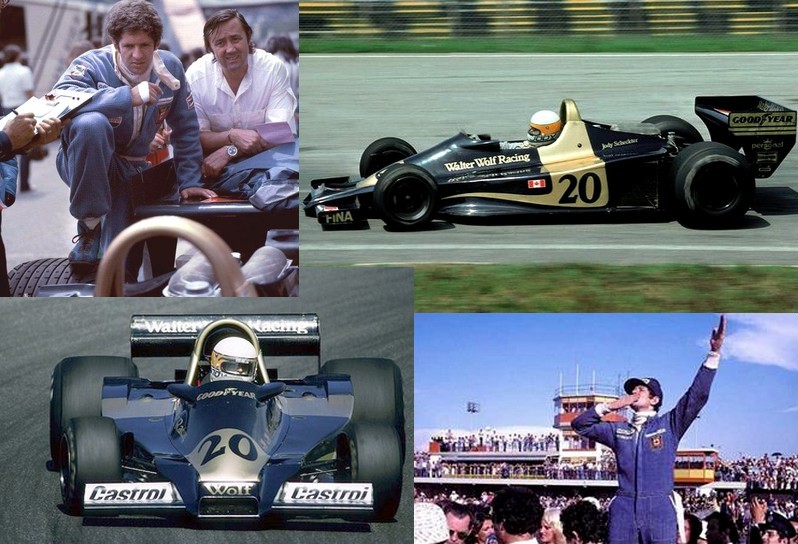 Scheckter and team owner Walter Wolf did not expect to win right out of the gate
Championship leader Scheckter faced increased scrutiny at the next round in Brazil only to qualify 15th and retire after 11 laps with an engine issue. The former Tyrell man bounced back strongly with four consecutive podiums, capping his successful run by a second win at Monaco.
Despite a string of retirements over the summer, Scheckter would claim another trio of top-three finishes as well as a third victory at Wolf's home race in Canada to finish a stunning championship runner-up to Ferrari's Niki Lauda.
The honeymoon period between Wolf and F1 did not last long, though Scheckter was still able to secure four podium finishes and place seventh in the 1978 Drivers' standings. The South-African then moved across to Ferrari where he would win the 1979 title.
Replacing Scheckter at Wolf was 1976 champion James Hunt but the flamboyant Briton called it a day halfway through the season. Keke Rosberg would take over but failure to score points led to the Canadian businessman pulling the plug on his team at the end of the season and selling the equipment and assets to Emerson Fittipaldi and his Fittipaldi Automotive (ex-Copersucar).