Jolyon Palmer talks to F1i about his debut season with Renault, following in his father's footsteps to race in F1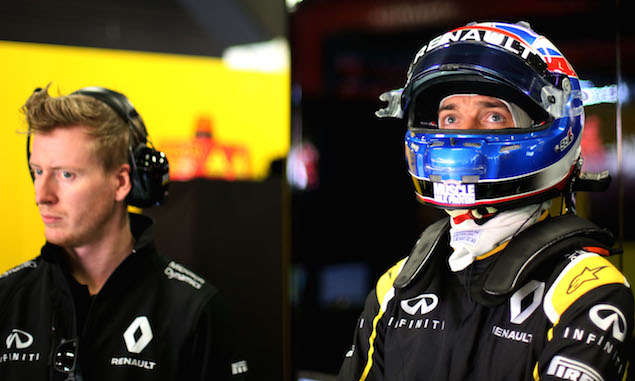 Formula 1 is currently full of drivers with racing fathers, with Nico Rosberg, Max Verstappen and Carlos Sainz on the grid last year, while Kevin Magnussen returns to Renault this season.
Alongside Magnussen, Jolyon Palmer will be making his first F1 start in Melbourne this weekend, and the son of former Tyrrell and Zakspeed driver Jonathan has high aspirations for the Palmer name.
Sitting down with F1i to talk about his upcoming debut, Palmer actually says his father's time in the sport was not the main reason he caught the racing bug. Of Jonathan's grand prix starts, Palmer admits: "I've seen a couple, I don't think I've seen a whole race to be honest!
"I've seen a couple of bits but I don't really watch them for him, the Tyrrell wasn't really the most striking car in the Eighties. There was a lot of [Ayrton] Senna and [Alain] Prost going on back then which is a bit more interesting as well to be honest! I actually watched a bit with my brother, just clips and you'd be watching an iconic bit of Senna and Prost or [Nigel] Mansell and then there would be Jonathan Palmer chucked in the mix as well. But it's quite difficult to see exactly what he's doing.
"I've seen some of his F2 and F3 stuff from before when he's fighting for the title and that's more interesting to be honest because there you can actually understand what he's doing as a driver. In F1 he's just sort of merged in the midfield and they had really big grids then - 30 cars and pre-qualifying - so I think it was a difficult time to be a midfielder. A lot of cars didn't finish and sometimes the Tyrrell would end up P4 or P5 or something at the end of the race but there were certainly some great drivers at the time that they focused more on."
And for Jolyon, the target is to avoid his father's fate when it comes to the impact he makes within F1.
"I hope that it's not that they're picking me up as a midfielder in the [Lewis] Hamilton and [Nico] Rosberg battles, I want it to be that I'm a driver that people know about in years to come. Obviously I'm here to be successful. The car this year I'm sure is not going to be winning races but Sebastian Vettel did some years in a Toro Rosso when … OK he won a race but he did a year when he wasn't winning races and people start somewhere!
"For me this is the start of a long-term career in Formula 1 and hopefully it's the start for Renault as well. As a team I think we're going to grow. So I'm not here for the short-term, I want to be successful."
Palmer almost found himself with a very short F1 career having been confirmed as Romain Grosjean's replacement late last year, with uncertainty over Renault's plans to take over the Lotus team dragging on beyond the end of the season.
"I was kept reasonably closely informed but in the end I think even a lot of the main decision makers at Lotus didn't know what was going to happen. There was only one or two people in Renault - Carlos Ghosn and maybe a couple of his closest advisors - that knew what was going to happen. So it was a difficult time.
"When the deal was done with Lotus it was done with the Letter of Intent from Renault and with Renault's approval. At that point everything was looking quite good, but then obviously the longer it dragged on into December and around Abu Dhabi it was still not done, at that point it was not the most comfortable situation! But then as soon as it was done properly it was time to get on with the work this year."
When Lotus' future was hanging in the balance in Abu Dhabi, Palmer admits there was no alternative for him in F1 having already secured a race seat with the team for 2016.
"I didn't start looking elsewhere. I was focused on the job. I still don't know what would have happened if Renault didn't take over, whether Lotus could have kept running as it was. Maybe they could have had fresh investment or some other plan B option. Luckily we didn't have to find out because this is definitely the best alternative. But I was just focusing on doing what I could do and if it didn't happen then I think my chances of Formula 1 were probably going to be over because there would be nowhere else to race on the grid.
"Manor to me wasn't really an option and I think then we would have had to have a pretty grim winter and try to decide where to go next really. But luckily I was just focused on doing what I can do, keep positive, keep driving the car - I did Friday morning in Abu Dhabi and then the test after it so I was just focused on doing that and keeping my fingers crossed, basically."
With the Renault takeover completed before Christmas, Palmer is now part of a team gearing up for its first race as a full constructor in more than five years. From hoping for a chance to make his F1 debut, the 25-year-old believes he could be in position to capitalise on Renault's rebuilding in the coming years.
"Since about October and November last year up to now really is a massive difference. The factory was really ghostly at the end of last year. People were still there, employed, but they didn't have anything to do. We didn't have any materials, we weren't really making anything, we were just trying to get by with what we had. Morale was really bad because nobody really knew what was going to happen in the future.
"Now suddenly the Renault deal is confirmed, we've got fresh investment and really good long-term motivation, planning, expectations and everyone is really excited. The factory is really, really busy again, busier than usual because we are late so it's flat out. But it's really nice to see now walking through Enstone because everyone's really excited, working really hard, all the machines are whirring all the time and it feels like a big Formula 1 team getting back to life."
2016 F1 season: Chris Medland's team-by-team preview
TECHNICAL: A closer look at the Renault R.S.16
Keep up to date with all the F1 news via Facebook and Twitter