Jolyon Palmer sits down exclusively with F1i following confirmation he will race for Lotus alongside Pastor Maldonado in 2016
First of all, congratulations on the drive. Going back to when you joined the team as third and reserve driver, what were the initial discussions which took place then? How confident were you that it would lead to this?
"The initial discussions were that I needed to be getting some seat time and I needed to have a shot at a 2016 race seat, really. I was promised the seat time and told there could be an opportunity in 2016 so that was as good as it was going to get for me. The team is obviously very capable as well, so then started the year and got in the car and was getting more and more seat time which was all looking positive. There were generally good feedback and comments so I knew that the team were happy with me but you never really know, there has been a lot of third drivers come and go here without anything. So it's been some tense times trying to get the deal done to try and be the race driver but in the end it has all panned out as best we could have hoped."
You had a run with Force India at the end of last year as well…
"I did one test in Abu Dhabi, yeah."
So the feedback you got from them, did that sort of make you think there were no guarantees and you would have to go out and prove yourself throughout the year with Lotus?
"Yeah the test with Force India was very good. I didn't do a lot of laps just because we had a lot of car problems unfortunately but it was good because it made me realise I could do this; I was GP2 champion and knew I could definitely do this. I was happy with the test so then it was just trying to get a deal together where I could prove it on a more regular basis from that. Force India was another team we were speaking to over the winter after that but in the end Lotus was the better deal."
When did you first feel confident the third driver role was going to become a race seat? Did you ever feel confident?
Well … yeah you never feel confident you're going to get a race seat I don't think if you're not in there already! And I don't have some world championships to back me up! So it's been a slog all year, even when things were going very, very well and I was happy with what I was doing in the car and the team were all saying good things, you never really know what is round the corner. I knew from quite early in the year that things were looking very possible and then really around the summer break it started getting a bit more confusing, there were all sorts of question marks over the future of the team which is never nice either. But I've known since early in the year that there was a chance but never confident until it was finally done and someone told me that I'm in."
Pretty much every driver coming in to F1 now is bringing some form of backing, support or partnerships which helps them as an all-round package; did you have to increase your level as the year went on? Did Lotus ask different things of you?
"Well not really, no. It's obviously a thing in Formula One now that driving is not enough but I think the level of backing that I've got is not big compared to a lot of other drivers out there. So it's been something that we've been working on all year knowing that it's probably going to be quite important to get a seat but in the end it's just come about with Lotus and also Renault. What has been important has been the performance side, the engineering side and then trying to help out on the sponsorship side as well."
Focusing on the on-track stuff, did you feel the pressure in the FP1 sessions that you had to go out and perform?
"Yeah, massively really, there is a lot of pressure on those sessions. For everyone else out there there is no pressure, it is the start of the weekend and they can all ease in to it. But when it's your one chance for a weekend and you don't get a lot of weekends that you're in the car either then it's all or nothing really. So it's tough because you don't get a lot of track time, you need to show everything that you can do but if you crash the car or do something stupid then it can be over in a flash. So the pressure is pretty immense, but the more I did of it then the easier it got really and I got more familiar with the car, the team and the routine and it all sort of eased."
Does that prepare you as well for a first season in F1 in terms of the pressure going up a level again when racing?
"Yeah I think so really. It was a practice session but for me it's like a qualifying session sometimes, so obviously racing and then having an actual qualifying is going to be extremely intense so I've got to prepare for that as best I can. I've come up through the ranks doing qualifying and races, it's the same sort of pressure. Especially with GP2 where you need to win the championship to show that you can be in F1 but then in F1 you still need to continue good results, it's not like there's no pressure lower down in the category. So I'm sure it's going to be more, there is more focus - obviously the world is focused on Formula One - but for me it is the same."
Did you feel that as a GP2 champion that should have been enough to deserve a race seat or has it changed your outlook that you needed Friday track time and F1 track time to show a team it should put you in?
"Technically yeah it should be enough to be GP2 champion but there's the reality that it's not, now. So Formula One has always been with drivers coming in with big sponsors, that's not changed, but I think there are less drivers coming in without anything now. So for me it was just trying to get an opportunity and maximise what I could do with it. I think pretty much that's what I've managed to do this year, I've been given a shot and I've taken it so I'm in the seat for next year."
You obviously will want to focus on 2016 but it could be an uncertain winter as the team waits for the Renault deal to go through. Is that something that is disconcerting for you?

"I'm not hugely worried about that. I'm just going to focus on my own thing. I'm driving FP1 for the rest of the grands prix, get some track time and then it's just working with the engineers. Obviously now it's nice that everyone knows I'm in the car so I can work more intensely with them and making sure that I'm feeling sharp, ready for the start of the year. The expectation is it's going to be a Renault team next year so I think everyone's just focusing on that."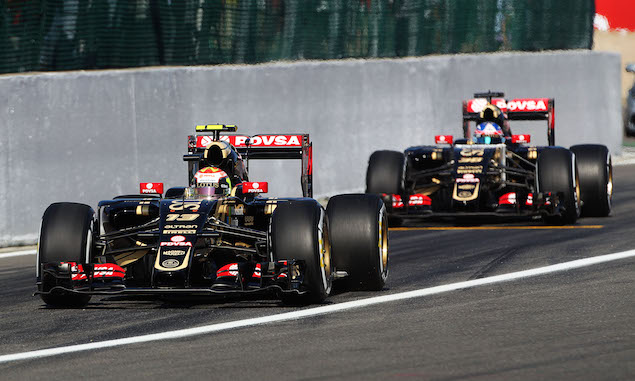 With the team producing a strong car this year but unable to develop it with little money going in until the takeover is done, does it concern you that maybe next year's car might not be at its full potential as a result?
"It's really difficult to say. I think the guys are working flat out now to make a good car, so Renault coming in can't be any less secure financially, it's got to be a good thing. So from that point of view it's good. Obviously it's all coming around quite late which is not ideal preparation but it's impossible to make a judgement on what the car is going to be. I hope it's going to be really competitive but obviously everyone else is working in other teams as well so we'll just see in winter testing."
From what you know of the team and the potential within it, how far do you think it can go given the Renault backing?
"Well I hope they can go on to be world champions. They've been world champion ten years ago with Renault then, so now Renault is coming back it's the same team. There has been some staff move on but some new guys have come in as well and I know the engineers and brains in Enstone are really good. I'm sure with Renault backing they're going to want to win, so hopefully we can."
You feel that if that situation arises you can do that, you're ready to jump in straight away and win races?
"Absolutely. That's what I'm here for."
Mexican Grand Prix: Technical analysis