Can our resident grumpy old git really get upset about a Grand Prix that's been cancelled? What do you think?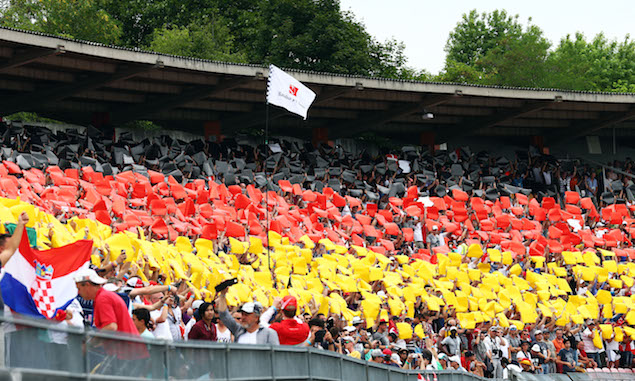 I ask you, after the pealing of church bells and hosts of heavenly choirs singing at the joyous news that we could have a weekend at home in the height of the summer, the last thing you expect is a call from the editor telling you he requires a preview to the Grand Prix that might have been.
A hypothetical preview is riddled with pitfalls, as is all philosophical discourse. It reminds me of the one piece of advice given me by my late father on how to engage young ladies in conversation: he said on a first date I should stick to the safe Three "Fs,' Family, Food and Filosophy. (my father was a surgeon hence spelling was not his strongpoint.) I only tried his method once, asking a girl if she had any siblings and when she replied in the negative, I asked her for her views on cheese, but she had none. This only left philosophy, but she left me standing at the bar after I asked her, "if you did have a brother, do you think he would like cheese?"
But I digress. In the days when the European part of the F1 season was in its pomp, the idea of the German Grand Prix being cancelled would have been unthinkable, as we have only not gone there three times since it first appeared on the calendar in 1951. Plus, when you consider the Nurburgring hosted twelve European Grands Prix, Germany has actually hosted more F1 races counting towards the championship than any other country.
However, the bitter cocktail of bad management, sky-high hosting fees, a possible buyout by Bernie Ecclestone and an eventual deal with a "Russian billionaire," two words that inevitably spell trouble, combined to do for the Nurburgring, arguably the nicer of the two circuits which alternated running the race. Sadly, the Hockenheim management was less than impressed when the call came through from Ecclestone: "Lads, we're having the party at yours after all; I'm coming round with a pallet of beer and some pizzas."
The writing was on the wall for the Teutonic tracks when the Schumi-Ferrari era came to an end. You could say Michael was a man of the people, which roughly translated means he appealed to the lowest common denominator, who would turn up in their tens of thousands with their mullet hairdos and tiny denim shorts to cheer him on.
They'd waited a long time for a local hero, because, if you take 1989 for example, there were four German drivers on the entry list, but they generally failed to make it onto Sunday's grid. Messrs Christian Danner, Bernd Schneider, Volker Wiedler and Joachim Winkelhock had the honour of driving some of the worst s**t-boxes ever built to meet the F1 regulations and were invariably on a hiding to nothing when it came to pre-qualifying and qualifying.
Once Schumacher quit, the whole German house of cards collapsed, with TV viewing figures taking a dive and a feeble 50,000 fans turning up for last year's race at Hockenheim. It seems that the likes of the two Nicos and Sebastian are just too nice and European to appeal to German race fans, which is a scary thought in its own right.
Also scary was the original Hockenheimring, whereas its current incarnation, which we will presumably return to next year, is something of an ersatz affair, in that while it looks like a real race track, I can't really remember anything about it. The first time I'd even heard of Hockenheim was back in 1968. I was sitting in the grandstand opposite the pits at Brands Hatch watching the BOAC 500, a 6 Hour endurance race held on 7th April. I was disappointed that Jim Clark, who should have been racing there, had instead decided to tackle a Formula 2 race somewhere in Germany. Then, during the race the Brands tannoy announced the news of Clark's death, after the Scotsman had left the track on one of the interminably long straights through the forest. Dangerous though they were, the long straights that defined Hockenheim's character lasted until 2002, when the track was remodelled. The special low downforce configuration required for the old track made for some spectacular moments when the drivers actually came to the Motodrom section and had to deal with corners. In fact, years ago, Williams' Patrick Head suggested that the sport's aero regulations should demand Hockenheim levels of downforce be used at all circuits. That might have been a better solution than ERS, KERS and DRS.
What does it all mean? It means we have to wait another week for our F1 fix, when we head for the Hungaroring. It also means that, despite their reputation for being efficient and getting things done, it seems that Germans can't organise an Oktoberfest in a Brauerei. It's not all bad news however, as this Sunday will see me back at the aforementioned Brands Hatch, watching a round of the British Superbike Championship. Last year's event drew a crowd of almost 53,000, rather more than Hockenheim managed for the 2014 Grand Prix.
Click here for an exclusive Q&A with Red Bull's Adrian Newey
Keep up to date with all the F1 news via Facebook and Twitter